As reflected by the USID2009 conference theme "DESIGN FOR ALLL: Usability, Accessibility & Creativity", the USID2009 conference is also an attempt to create sensitivity among the design and technology professionals and the industry towards the cause of disabilities. USID2009 conference is an attempt to explore how technology, design and creativity can work together to deliver products, systems and applications which are accessible and provide inclusion rather than exclusion.
Keeping the same sprit USID foundation is organizing a event "Celebrating Abilities" which is performed by the differently abled performers of 'Ability Unlimited*' "Celebrating Abilities" will be performed as part of the Closing Ceremony of the USID2009 conference scheduled on September 20th, 2009
"Celebrating Abilities" An Historic First and World's First performance on wheel chairs and crutches by differently abled.
"Celebrating Abilities" Productions are unique and entertaining-something you have never seen before. The spinning speed of wheel chairs is faster than an accomplished Ballet dancer's spins! Spectacular performance by the disabled artistes dance-theatre such as 'Martial Arts On Wheels', 'Ramayana On Wheels', 'Durga', and the Bhagawad Gita, Sufi Dance On Wheels and Specially choreographed A R Rehman's Music Compositions like jai Ho, Vande Matharam take you by surprise. Deeply moving and beautifully presented, these productions take you beyond the familiar world of television Bollywood and Hollywood. Each production you see is a class act, adding a captivating chapter in the annals of Indian dance and theatre.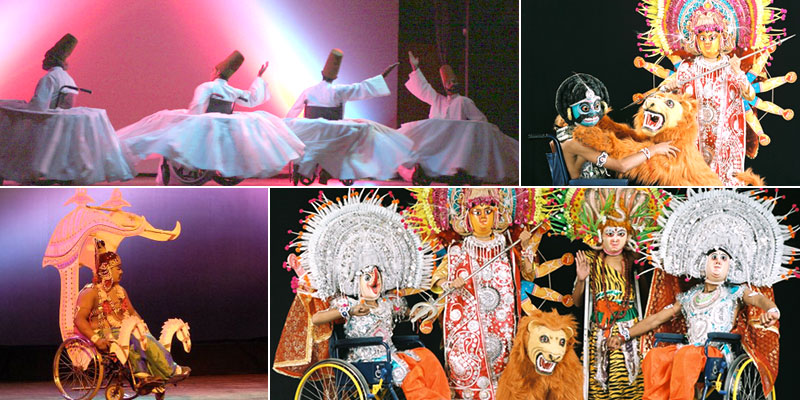 *Ability Unlimited - strives to bring dynamic soul-stirring performances aimed at recognizing, nurturing, and enabling the hidden potential of each person and organizations. Our pioneering efforts to showcase indomitable spirit performances meant to enable and empower the individuals. Disabled people creative talent aims at bringing out attitudinal change in the people's mind.
Founder, Director and Choreographer : Guruji Syed Sallauddin Pasha : Revered as 'Father of Indian Therapeutic Theatre for persons with disabilities". Guruji Pasha is a recipient of National Award from the President of India for outstanding performance in the field of empowerment of persons with disabilities and world record holder from 'Limca Book of World Records' for creating 100 dance theatre productions and 10,000 performances by persons with disabilities across the globe. His pioneering efforts have won National and International recognition. For the past 25 years, through his innovative methodology, direction and choreography, he has efficiently executed 100 Mega Therapeutic Theatre Productions bringing hope, confidence, dignity and zest to the people with disabilities around the world.